"steps - the tiny waters":
- 1987 / 88 -
from a cyclus "the five elements"

for the exebition "light and performance" art academy düsseldorf, mai 1988.
curator Prof. Nan Hoover - 5'46''.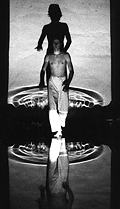 "wood": - 1988 -
light and performance beond the cycles "the five elements"

three mirrors under a swinging pendulum, sending spots of light to a dark space.
a dancer moves in squares arround the earth eclipse to the inner space of infinity: - 5'36''.
"granpa": - 1985 -
Dedicated to my grandfather, whom i never met. He was a cole miner. He died, before i was born. "work is your half life..."

video documentary of the performance in filmclass, art academy münster
students exebition, february 1985.

- about: 9'17''.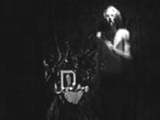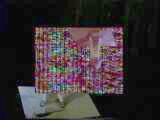 "passage - ariadnes thread":
installation and performance with six projectors and a raft

opening of "Kunstmeile Ahlen", Curator unknown
september 1989.

location: the small rivers shore behind a bridge;

- about: 7'32''.